As one of the world's leading comprehensive wheel makers, Topy manufactures wheels of all types for a variety of purposes - passenger cars, trucks, buses, and small and large construction vehicles - to meet the diverse needs of the automotive and construction machinery industries.
The secret of Topy's success lies in its technological prowess, superior design, and quality assurance system, which have combined to produce countless high-precision products. The "TOPY" brand has become a name people trust. As a leader in the wheel industry, Topy s tackling some of the toughest challenges facing the industry today, including weight reduction and improving stability. With an emphasis on safety and the global environment, we continue to develop our vision for the future of motorization.
Backed by our integrated, raw materials-to-finished product manufacturing system, Topy makes and sells steel wheels ranging in size from 8 inches to 63 inches.
For passenger cars, Topy employs advanced technology to create full design wheels that combine rim flanges and discs into a single part, as well as innovative large window wheels with ultra-large perforations. These wheels are complemented by elegant plastic detailing to give them a level of design far superior to traditional steel wheels.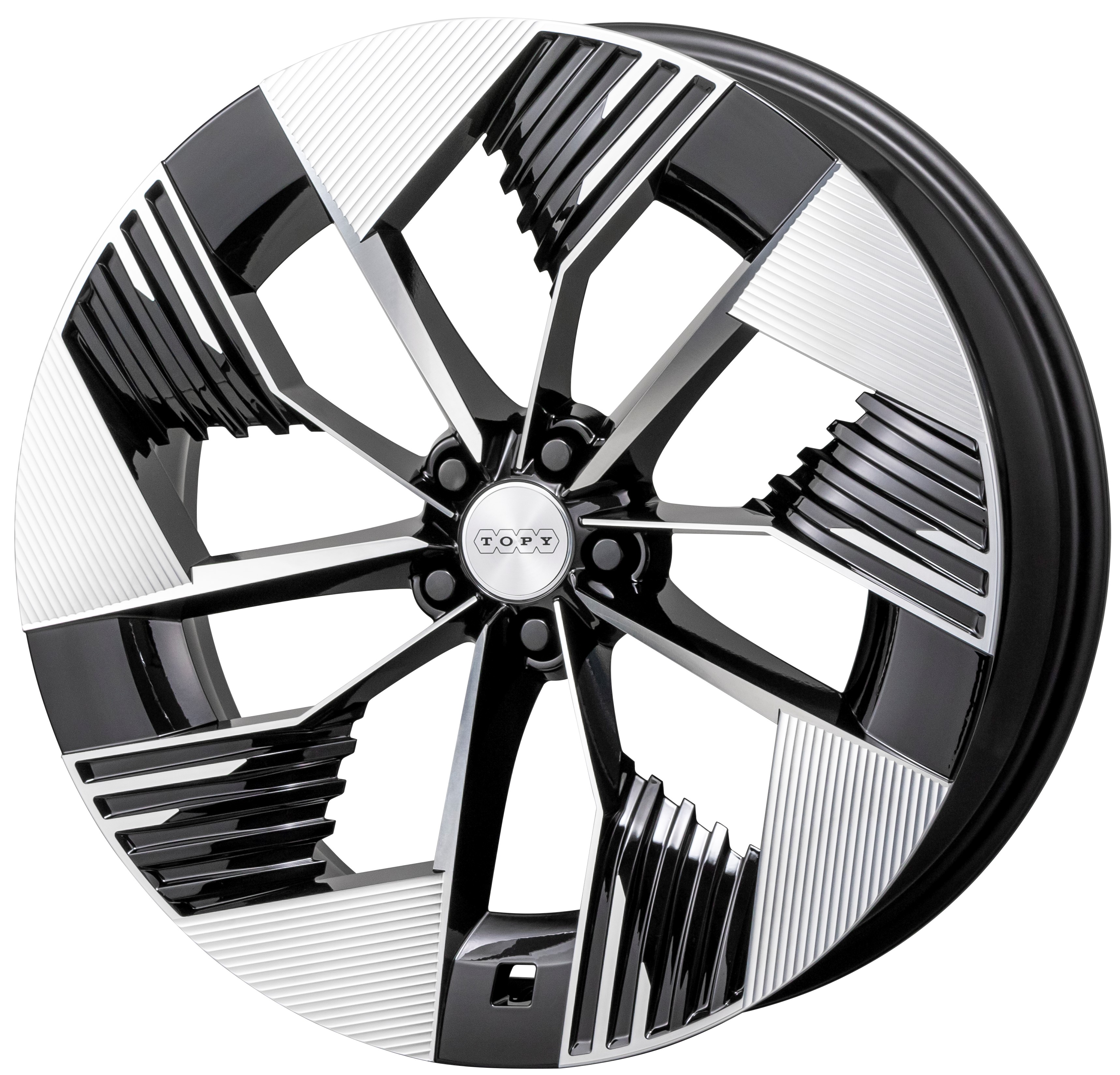 For trucks and buses, Topy uses its own exclusively developed high-tensile section steel to create wheels that are light, strong, and rigid.
Designed to anticipate the needs of the market, Topy's high-valued added wheels are supplied to numerous automakers, earning high marks for their performance and reliability.
hybrid wheels
Topy employs the latest casting analysis technology to provide exceptionally strong, lightweight aluminum wheels to numerous automakers.
Our integrated system incorporates the entire production process from design to manufacturing. In the passenger car market, Topy has won praise from fashion-conscious buyers with large-diameter and plate-coated products as well as hybrid wheels incorporating plastic components.
World's largest wheel (63 inches)
Topy's superior technological prowess gives its construction vehicle wheels high strength, durability, and overall quality. These traits have made them reliable favorites worldwide, and Topy's wheels are supplied to construction and industrial machinery manufacturers in Japan and abroad.
Topy's SGOR® wheels are designed for extra-large dump trucks used in large-scale mining operations overseas. These wheels are the largest in the world, with a rim diameter of 63 inches (about 1.6 meters), a width of 44 inches (about 1.1 meters), and a weight of 2.83 tons.
Compared to passenger car wheels, SGOR®s are five times larger in diameter and 280 times heavier.